Time: 16:30
Event: Dance Workshop: FriniTango School
Location: Vamos Old School
Cost: 10 €
Time: 18:00
Event: Exhibition of Dance and Milonga (FriniTango School)
Location: Vamos Old School
Cost: 5 €
Time: 21:00
Event: An evening of Greek Music - by the internationally-renowned lyra player Zacharias Spyridakis and friends.
Location: Vamos Amphitheatre
Cost: 10 €
Tickets and passes will become available on Friday 7 May. For further information please call at 28250 22515 or send email at
francesca@amygdali.com
This e-mail address is being protected from spambots. You need JavaScript enabled to view it
This e-mail address is being protected from spambots. You need JavaScript enabled to view it
.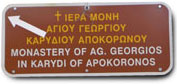 Now available, an interesting book about the traditional village of Vamos in Crete! The book contains many beautiful pictures and information about the history of the village. There is a village walk that brings you along the sightseeings of the village and there are additionally 6 easy country walks in the area of Vamos. Each walk description includes extra information and a detailed map. The book is for sale at the Vamos Tourist office. The price is 7,50 euro.