The faros (lighthouse) and retaining wall of the harbour of Rethimnon
35*22'.5 24*29'
Tel.: 2831022276, 2831028971, 2831055150
VHF Ch 12, 18
The city of Rethimnon can provide most shopping facilities for the boater with ample stores and light repair shops. Water and fuel can be brought to the quay. There is a General Hospital, private doctors, dentists, as well as pharmacies. In the harbour there is Customs authorities and Port police but no Immigration.
Rethimnon is not a Port of Entry. The town itself is immediately around the harbour. There are many tavernas and hotels as well as full telephone and post services. The small Venetian harbour will only accommodate 2 or 3 small boats.
The entrance depth is uneven and unpredictable because of silting. The stern-to bow-to moorings provide very good shelter in all weather conditions. In the outer harbour stern-to bow-to or alongside mooring are on the east and west walls. The east has good protection in all weather conditions. The outer harbour has a flashing green light on its right wall and a flashing red light on its left. The inner harbour has a light on the old lighthouse. In foul weather, waves at the harbour entrance can be dangerous.
Photos of Rethimnon: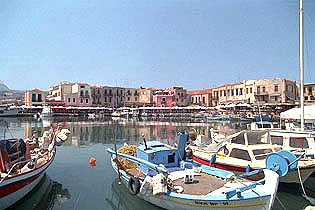 The Venetian harbour of Rethimnon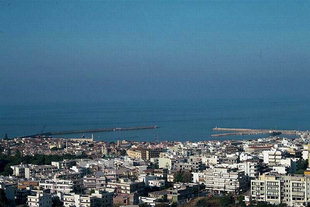 The harbour of Rethimnon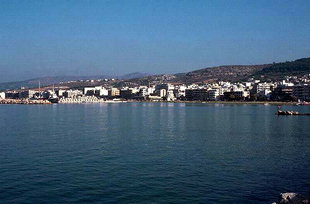 The outer harbour of Rethimnon
The faros (lighthouse) and retaining wall of the harbour of Rethimnon