Omalos Plateau and Mount Gigilos
At 1,080 metres in altitude, the plateau of Omalos is one of the three highest large plateaus of Crete. The plateau of Nida in Psiloritis is at 1,400 metres and Niatos, above Askifou, is 1,500 metres high. The plateau of Omalos borders the three provinces of Kydonia, Selino, and Sfakia. The plateau has three exits. The first one is the road from Chania. The entrance to the plateau (1,087m) on this road is called the Neratzoporta --The Orange Door. The second exit is the
Samaria Gorge
, which ends at
Agia Roumeli
. The third exit is in the southwest corner of the plateau. The road from here reaches
Sougia
through wild and captivating scenery. The plateau is surrounded by the peaks of the
Lefka Ori
: Volakias (2,116m); Gigilos, in front of
Xiloskalo
(2,081m); Samberos (2,005m), on the west side of the Samaria Gorge; and Psilafi (1,984m). The plateau is roughly triangular in shape and each side is about an hour's walk.
During the winter months, snow may cover Omalos and the road may be closed for several days.
The Omalos Plateau is green except in midsummer and is covered by wild flowers in the spring. The physical beauty of the area is as exhilarating as the mountain air and the plateau is a marvellous area for mountain hiking or walks. On the plateau there are tavernas and hotels, some of which are equipped for winter stays.
Photos of Omalos Plateau: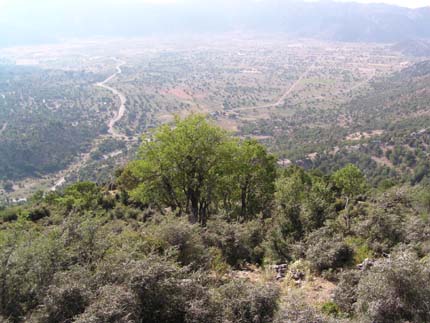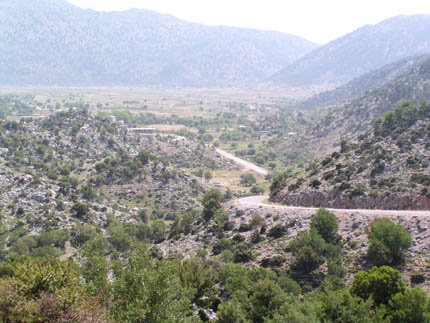 View of Omalos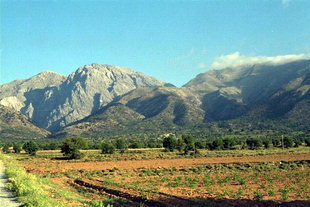 Omalos Plateau and Mount Gigilos
Omalos Plateau and Mount Gigilos