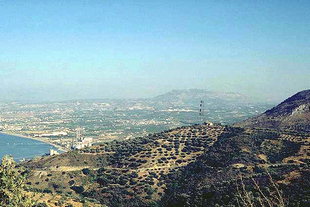 Iraklion city and Mount Youktas
Many ancient myths are associated with Crete. According to one, Gaia (Mother Earth)emerged from Chaos and bore Uranus as she slept. Uranus (the sky) fathered several children, among them the seven Titans. The last of them, Kronos, married his sister Rhea. It was prophesied by Mother Earth and Uranus that one of Kronos' sons would dethrone him. Kronos swallowed the children whole that Rhea bore each year, among them were Estia, Dimitra, Hera, Hades and Poseidon. When Rhea bore Zeus, Mother Earth hid him in the
Spileo Dicteon Andron
on Lassithi Plateau of Crete. Kronos believed that he had swallowed Zeus, but, in fact, he had swallowed a stone given to him by Rhea to trick him and spare this son.
Zeus was raised by the nymph Adrasteia, her sister Io, and the goat-nymph Amalthia. The Kuretes clashed their spears against their shields to conceal the noise of the wailing baby. Zeus was nursed by the shepherds of the Nida Plateau in the Psiloritis (Idi) Mountains and lived in a cave,
Spileo Ideon Andron
on the Nida Plateau. He then approached Rhea and with her help made Kronos drink an emetic poison mixed with a honeyed drink. Kronos vomited up the brothers and sisters of Zeus. Zeus led them in a war against the Titans, which they eventually won.
The above myths were widely accepted by the ancient world. A truly Cretan variation presents Zeus as dying and being reborn every year. The head of the dead Zeus is seen in the shape of a hill (
Youktas
) behind Iraklion and it is visible from a long distance as one approaches the city. This myth about Zeus' death is a continuation and reflection of the beliefs of the ancient Minoans concerning the fertility goddess, who died and was reborn every year.
Photos of The Birth of Zeus:
The stalagmites and stalactites in the Dikteon Cave
The Ideon Andron Cave at the base of Psiloritis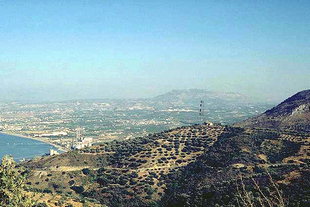 Iraklion city and Mount Youktas