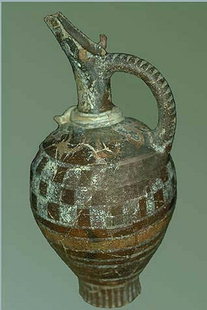 Kamares-style pottery from the palace of Festos
The pottery in the Prepalatial Period often had a polychrome decoration. During the Old Palace Period, a sudden and rapid advance in the designs occurred. The production of the famous
Kamares-style pottery
, which seems to have originated in Festos but which was initially found in the
Kamares Cave
on the south side of Psiloritis, spread quickly. Kamares-style pottery is characterized by a variety of abstract spiral and curvilinear designs, dark, mottled colours, and a combination of drawing on the surface of the vase and various relief patterns or even constructions (like flowers). Today it is considered the best ceramic art of the ancient world.
In the Old Palace Period the seals were made using semi-precious stones such as rock crystal, hematite and steatite. The designs were exceptional and they often show aspects of Minoan life and religion. Many seals of the era are displayed in the Iraklion Museum.
Minoan pottery of the Kamares-style has been found in several places outside Crete confirming Minoan influence in the Mediterranean at the time. The Minoans had built a large harbour on the island of Faros in the Nile Delta to facilitate commerce with Egypt.
Photos of Craft and Trade in the Old Palace Period:
Kamares Cave of Psiloritis Mountain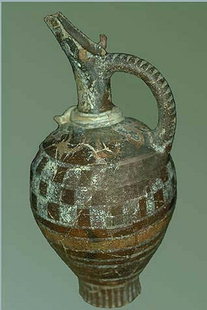 Kamares-style pottery from the palace of Festos