The bazaar atmosphere of the market in Matala
Matala
has revised its former image of a hippie settlement and there are presently no signs of that era. Now it has many attractive tourist facilities and a pleasant ambience. There is a market that has a bazaar atmosphere with many shop doors opening onto the covered street.
The roads from
Iraklion
are good and a direct trip will take 2 hours. From Matala,
Agia Galini
in the southern part of
Rethimnon
prefecture is easily reached. Ierapetra although further, is an equally interesting journey. There are frequent buses to the these destinations as well as many other local ones (See Transportation).
Photos of Village of Matala: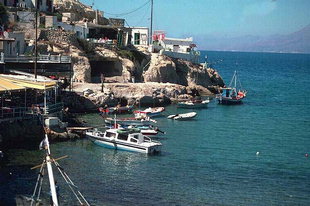 Matala Cove
The bazaar atmosphere of the market in Matala
Visit the area of the sight:
Matala