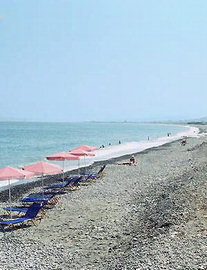 Kolimbari is a village 24km from Chania on the Chania - Kastelli road at the end of the bay of Chania and the beginning of the cape (hersonisos) of Spatha. It is a small place that can be used to reach the fertile land of the surrounding area, the interesting landscape and beaches, the large number of important churches and monasteries of the area and to reach the archaeological site of Diktinna. Kolimbari also played an important role in recent historical events.
The new highway from Kolimbari to Kastelli allows for fast travel to the next bay, Kolpos Kissamou and the town of Kastelli.
Traces of Minoan settlements have been found in several places near Kolimbari, but no systematic excavation has been done yet. The Turks first landed on Crete here, in 1645, and started occupation of the island. The Greek Army landed here in 1897 to achieve the union of Crete with Greece, and this was the reason for the start of the war of 1897 between Greece and Turkey.
Photos of Kolimbari:
The pleasant beach in front of Kolimbari
Gonia Monastery on Spatha Peninsula