The Byzantine church of Agios Thomas, Agios Thomas
Agios Thomas is 30km southwest of
Iraklion
on the road Iraklion - Venerato - Agios Thomas.
Agios Thomas is believed to be the location of the ancient Greek city Pannona. Several remains have been found in the area. In addition, there are several interesting Byzantine churches nearby.
This small village is between Psiloritis and the Dikte Mountains of Lassithi. It separates the Mesara Plain from the north. During the Venetian era it was a large town that the Turks destroyed in 1821 and 1866. Archaeologists discovered ancient Roman tombs, cisterns, and early Greek writing in the area. The area of Agios Thomas was reputed to have had 38 churches in the past.
Photos of Agios Thomas: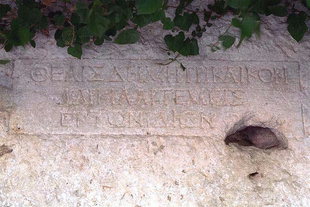 The Ancient Greek inscription found near Agios Thomas
Ruins in front of Agios Ioasaf Church, Agios Thomas
The village of Agios Thomas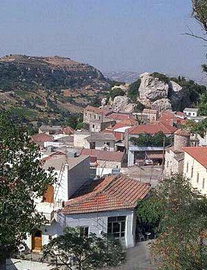 The Byzantine church of Agios Thomas, Agios Thomas