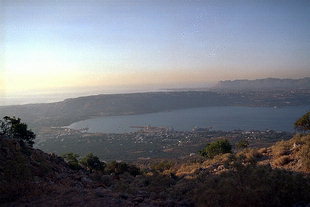 Souda Bay and the city of Chania
35*29'.5 24*04'.5
Tel.: 28210 89240, 2821089884
VHF Ch 12
The harbour of
Souda
is south of the large peninsula of
Akrotiri
. The mainland on the other side of the harbour has a Turkish castle (Aptera) high above the mouth. The Akrotiri has an International Airport as well as military installations whose towers are evident from a distance.
In the middle of the entrance to Souda Bay is the small island of Agios Nikolaos, with a Venetian fort. There is a narrow channel marked by red and green flashing light buoys. On the other side of these buoys is the anti-submarine netting that is held by large black buoys. This netting extends to the shore on either side. Beyond this there is an unmarked free channel that extends to the docks at the end of Souda Bay 3km east and to the small fishing harbour. At the end of the harbour there is a large flour mill. There are also restricted areas in this harbour near the naval dockyard.
At the far end of the harbour there is a newly constructed fishing harbour that will provide facilities for small boats Souda Harbour provides all services. Fuel can be ordered. It is not a Port of Entry but has Customs and Port Police. Whatever cannot be found in the immediate harbour area will be in
Chania
10 minutes away. The ferry boats to Pireaus also dock here. Souda itself has banks, shopping and some tavernas.
Souda has alongside, stern-to, bow-to and anchorage moorings providing excellent shelter in all weather. Weather conditions outside the bay may be drastically different. There is no entry to Souda at night and all activities in the bay are secondary to military interests. The north side of the bay is off limits.
Photos of Souda: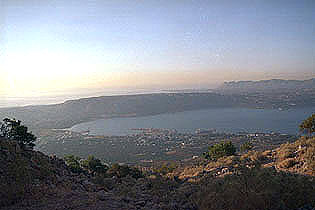 The Venetian fort in Souda Bay
The Turkish castle in Aptera overlooking Souda Bay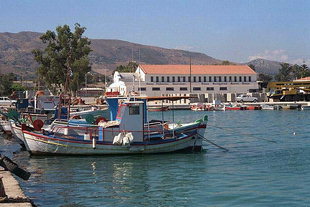 The fishing boat harbour of Souda
Bay and beach of Kalives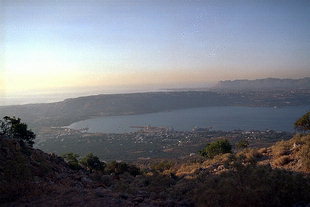 Souda Bay and the city of Chania