An old church in Hora Sfakion
Chora Sfakion
is a small village in a cove between the mountains where the terrain is wild and harsh with the
Lefka Ori
towering behind.
After the loss of the Battle of Crete in 1941, 12,000 Allied troops evacuated the island through Chora Sfakion, after walking from north Crete through the
Imbros
Gorge; a plaque on the waterfront commemorates this event.
There are a number of excursions from Hora Sfakion: to
Frangokastello
, Anopolis and
Aradena
. Besides daily boats to
Loutro
,
Agia Roumeli
,
Sougia
, and
Paleochora
, there is a boat once a week to
Gavdos
(See Transportation).
Photos of Village of Chora Sfakion:
Hora Sfakia from the road to Anopolis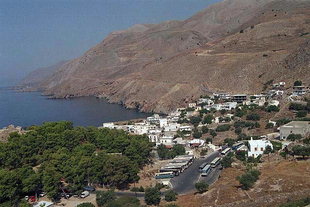 The village of Hora Sfakion
The village and harbour of Hora Sfakion
An old church in Hora Sfakion