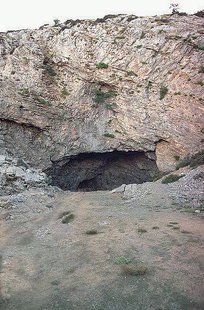 The Ideon Andron Cave at the base of Psiloritis
According to legends, the Ideon Andron Cave was the birthplace of Zeus. In the myth, Rhea brought the infant Zeus to the Ideon cave to protect him from his father, Kronos, who would have swallowed him alive, as he had previously done with his brothers and sisters. Here he was nursed by the goat nymph, Amalthia. He was protected by the Kuretes (5 Cretans) who danced and clashed their weapons to cover the cries of the baby Zeus. This myth will be disputed by those that believe that Zeus was raised in the Dikteon Andron in the plateau of Lassithi.
In another variation of the myth, the baby Zeus was born in the
Dikteon Andron Cave
, while the infant Zeus grew up in the Ideon Andron among the shepherds of the
Nida Plateau
. Zeus is often called "Cretagenis", e.g. born in Crete. According to Cretans, Zeus was not immortal, in contrast to the Classical Greek belief; he died and was reborn every year. The head of the dead Zeus can be seen in the outline of Mount
Youktas
, outside
Iraklion
. This belief of Cretans, continues traditions of the old Minoan religion (in which the Young God died and was reborn every year) to the Greek religion.
Historically, it is clear that both the caves in the
Lassithi Plateau
and the cave in Nida were sanctuaries during Minoan and early Greek times. The cave of Trapeza in Lassithi was used very early in Minoan times, but later it lost its significance to the cave of Dikteon Andron, also in the Lassithi Plateau, and the latter seems also to have been replaced in importance by the cave of Ideon Andron in Nida during Greek and Roman times.
Excavations in the cave uncovered finds dating as far back as late Neolithic times. During Minoan times, the cave was a place of worship of the fertility goddess. Later it became the place of worship for the cult of Zeus.
The cave is 1,540 metres above sea level. It contains a large chamber at the opening and two horizontal chambers that open to the inner sanctum of the cave. Excavations are in progress and the cave is now closed to the public.
The original excavations were done by Professor Marinatos and revealed the Greek and Roman use of the cave. The recent excavations in the cave are concerned with the finds of the lower deposits in the cave. The cave is known to have been used in the Neolithic Age. Recently, a superb bronze shield was found intact.
Photos of Ideon Andron Cave:
A bronze shield from the Ideon Andron Cave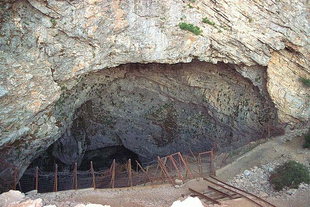 Ideon Andron Cave at the base of Mount Psiloritis
The Ideon Andron Cave at the base of Psiloritis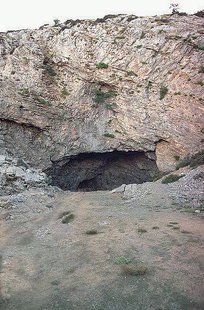 The Ideon Andron Cave at the base of Psiloritis