Alternative Tourism in Crete
If you wish to relax with the sounds of nature, meet the traditional way of live of the people in villages by participating in agricultural or stockbreeding activities, meet the authentic Cretan cuisine by helping in preparations or ride in the mountains and the valleys of Crete, the most famous island of Greece, then the ecotourism hotels and villages or traditional cottages are the most appropriate way.
Traditional hotels in Crete - Rustic villages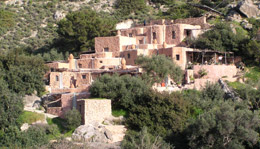 The number of traditional hotels and cottages in Crete is constantly rising. In many areas of the island you can find hotels and other accommodation units with special features adjusted to their natural environment and in the Cretan country architecture. Staying in such traditional environment of stone and wood during your vacation is something that will surely fill you with enthusiasm and will give another dimension to your holidays.
Additionally you will have the opportunity to find out yourself about the famous Cretan hospitality that only the Cretan people know how to offer.
Ecotourism and Cretan Diet
The holidays in an agrotourist hotel or village in Crete are bound together with famous Cretan diet, where the visitor has the chance to taste it and also help preparing it.
Most ecotourism hotels have their own farms, where they culture biological and free from all chemicals products. By that, Cretan products like cheese, honey, vegetables, olive oil, oregano, thyme, sage, rusks, wine, raki from local vines and aromatic herbs as well as many more will constitute the basic ingredients of your meals, which will be cooked by the owner or another cook of the area based on traditional recipes.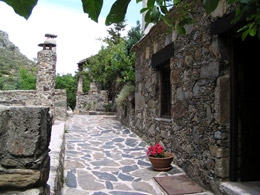 For more information about the
Cretan diet
and the
Cretan cuisine
please visit the relative links. Additionally, in some places, you will be able to participate actively in the preparation, learning the secrets of Cretan cooking pastry making and agriculture, through fully organized teaching classes.
Agrotourism and Activities
Horse Riding, mountain biking, walk in the woods or the crossing of a gorge, making bread or some traditional cake are only a few of the activities which you will be able to experience while staying in a traditional agrotourist hotel in Crete.
Or else, if you only wish to rest, then your stay in the Cretan countryside will absolutely relax you, giving you endless times of serenity, listening just the sounds of nature.