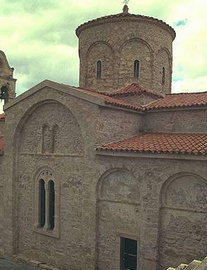 The village of Agios Miron is 19km southwest of
Iraklion
on the road Iraklion - Voutes - Agios Miron.
Agios Miron is the site of the ancient city Ravkos which flourished during the Greek era. It was an ally of Gortyn against
Knossos
and Lycastos. In 166 B.C. Gortyn and Knossos signed a treaty and since then no signs of Ravkos appear. The village is prosperous and presently produces raisins and wine. Agios Miron is an important Byzantine site. It was probably the bishopric of Knossos during the first Byzantine period, as it continued to be in the second Byzantine period. In the village is the church of Agios Miron.
Photos of Agios Miron: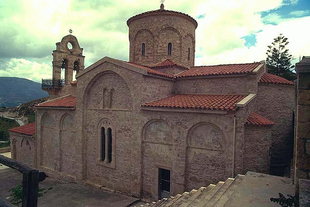 The Byzantine church of Agios Miron, Agios Miron