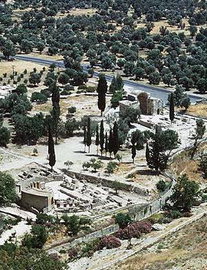 Gortyn is located 45km southwest of
Iraklion
on the Iraklion -
Agia Varvara
-
Agii Deka
- Gortyn road.
Gortyn is one of the most important archaeological sites on Crete. Although continuously inhabited from Neolithic times, it did not develop into a strong power until the Greek era. The city was flourishing by the fifth century B.C. Gortyn defeated and destroyed
Festos
in 220 B.C. and from then it used the two harbours at
Matala
and Lehena (
Lendas
). It was at war continuously with either
Knossos
or
Lyttos
. When the Romans invaded the island in 65 B.C., Gortyn did not resist. It became the capital of Roman Crete and flourished during the Roman era. Gortyn also flourished during the early Byzantine years but it was destroyed by the Arabs.
The fame of Gortyn lives on, due, in part, to the famous Gortyn Law Code found here. The twelve stone tablets are inscribed in the Doric Cretan dialect. This script reads from right to left on one line and left to right on the subsequent line. These tablets contain the foundation of an entire legal system including rules of civil procedure and provide great insight into the social system of the time. Many of the provisions of modern criminal law are still based on these ancient texts.
The archaeological site of Gortyn is extensive, straddling the road to the north and south. One of the most important buildings is the basilica of Agios Titos. It dates from around the seventh century and has three aisles. One aisle contains a shrine to Agios Titos which locals adorn with offerings.
The fenced site of Gortyn is just north of the road and east of the river. It includes the church of Agios Titos, the Agora area, the Odion and the very important Law Code of Gortyn.
Almost opposite of the entrance of the fenced site a road starts south to Lendas, making a T with the road from Agii Deka to Festos. On the lower east part of the subdivided space are many more remains of the ancient city of Gortyn, most of them unexcavated.
Photos of Gortyn (Gortina):
The site of Gortyn
The famous Code of Gortyn from the 5C B.C., Gortyn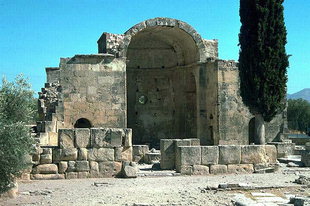 The basilica of Agios Titos, Gortyn