The sunken city of Olous near Elounda
From
Elounda
a causeway leads to the island of
Spinalonga
and the sunken city of Olous. Olous was built on the neck of the land that joins Crete with the peninsula of Spinalonga. Olous was an ancient Greek town in which the statue of Vritomartis once stood.
When the weather is calm the remains of Olous can be seen on the sea bottom. Archaeologists have done very little excavating here but an inscription from the second century B.C. was found referring to an alliance between Olous,
Lato
, and
Knossos
indicating the importance of this ancient city. Another inscription of the same era refers to a treaty of Olous with Rhodes. Other finds in the area include rock tombs with funerary objects which are on display in the
Agios Nikolaos
Museum.
Photos of Ancient Site of Olous: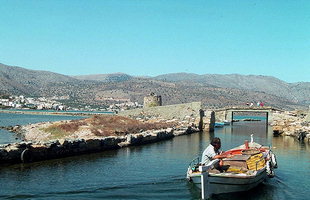 The causeway to Spinalonga
The sunken city of Olous near Elounda
Visit the area of the sight:
Elounda