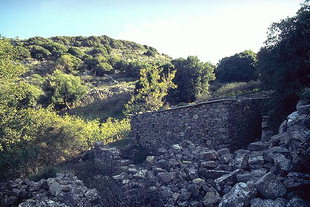 The area of Driros and the temple to Apollo Delphinos
The city of
Driros
was important during the early Greek years, about the eighth century B.C., but declined later after the second century B.C. The retaining walls of the city, the public buildings and the agora remain, but they are not well-preserved. An inscription in Doric dialect was found in which the young men from Driros swore to the gods to be forever the enemies of Lyktians and Milatians, then in another later inscription, the people of Driros declared friendship with the Lyktians and Milatians.
In Driros archaeologists discovered a temple to Apollo Delfinos, one of the oldest Greek period temples in Greece, dating from the seventh century B.C. A column in the centre, a central hearth (Estia) and an offering table make it resemble a Minoan building. The temple has a stone house protecting it. Three copper statuettes, found there, among the earliest of their kind, are displayed now in the
Iraklion
Museum. Some important inscriptions revealed interesting aspects of the ancient society.
Photos of Ancient City of Driros:
The protective housing of the temple to Apollo Delphinos, Driros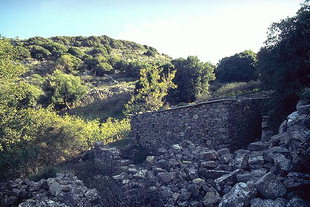 The area of Driros and the temple to Apollo Delphinos
Visit the area of the sight:
Driros