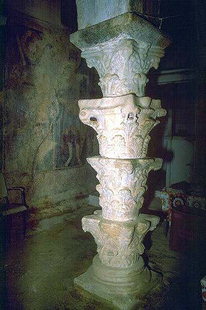 A pillar made of four superimposed Corinthian capitals, Pigi
In Pigi the Byzantine church of Agios Panteleimonas, one of the oldest on Crete, is in a serene setting near trees and water. It is a three-aisled basilica and the three aisles are separated by four arches in each aile. The last arch towards the sanctuary is higher and circular. The arches are supported by columns without capitals. One column is constructed from column capitals only, one above the other. Those and many other parts of the church seem to have been taken from older Byzantine or Roman buildings on the site. The outside walls of the church are decorated with marbles, crosses, and inscriptions. One side of the church has blind Byzantine brick arches that extend nearly to the roof of the church.
The frescoes in the church are in two overlapping layers with the first layer containing some of the oldest paintings in Crete.
Photos of Agios Panteleimonas Church in Pigi (Biziariano):
A superimposed Corinthian capital, Agios Pandeleimonas Church, Pigi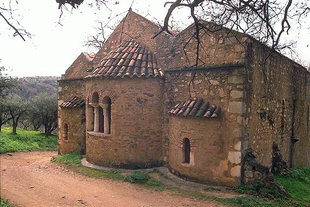 The three-aisled Byzantine church of Agios Pandeleimonas, Pigi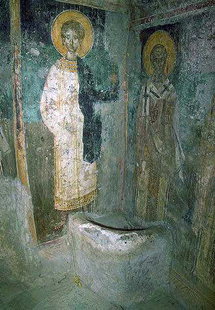 A fresco in Agios Pandeleimonas Church, Pigi
A fresco in Agios Pandeleimonas Church, Pigi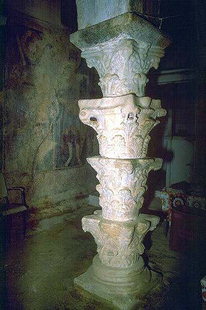 A pillar made of four superimposed Corinthian capitals, Pigi