The entrance to Toplou Monastery
The Byzantine general, Nikiforos Fokas, liberated Crete from Arab rule in 961 A.D. Iraklion fell into Byzantine hands after a four month siege, with Arab losses estimated at 200,000. Fokas built the
Byzantine castle of Temenos
(Kanli Kastelli) and attempted to move the city of Iraklion there. This did not materialize and the city remained where it was. Christianity flourished again and Iraklion became the seat of an archbishop. Churches and monasteries sprang up all over the island. Some of the more important churches are: the
Panagia Kera Church
in Kritsa; the
Rotunda of Michael Archangelos
, Episkopi;
Ai Yannis Kyr-Yannis Church
, Alikianos;
Agios Nikolaos Church
, Kyriakoselia;
Agios Fanourios Church
of the Moni Varsamonerou;
Agios Pandeleimonos Church
, Pigi; and
Agios Fanourios Church
, Kitharida. Some of the important monasteries of the period are:
Moni Arkadiou
,
Moni Palianis,
Moni Gouverniotissa,
Moni Agias Triadas,
Moni Gouvernetou,
Moni Vrondisi,
Moni Agarathou,
Moni Toplou,
Moni Halepa,
and
Moni Preveli
.
Also, during this time, Byzantine noble families and many of General Fokas' troops settled on the island and built new villages.
Photos of Second Byzantine Period: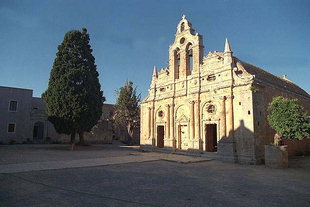 The church of Arkadi Monastery
Ai Yannis Kyr-Yannis Church in the orange groves of Alikianos, Kydonia
Agios Fanourios Church, Varsamonero Monastery
Agios Nikolaos Church in Kyriakoselia
The Vrondisi Monastery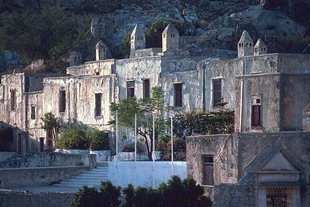 Preveli Monastery
The cruciform church of the Panagia Gouverniotissa Monastery, Potamies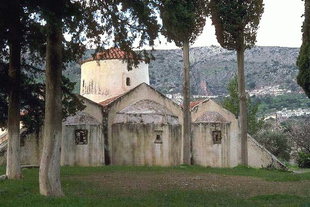 The Byzantine church of the Panagia Kera in Kritsa
The entrance to the Halepa Monastery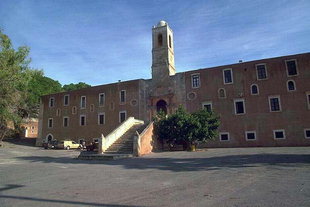 The front facade of Agia Triada Monastery
The triple-aisled church of the Palianis Monastery
The Byzantine church of Michael Archangelos, Episkopi, Kissamos
Agarathos Monastery in Pediada
The twin peaks of Kanli Kastelli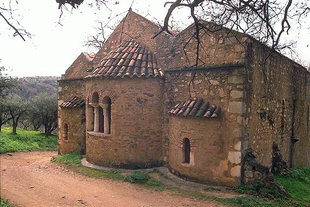 The three-aisled Byzantine church of Agios Pandeleimonas, Pigi
The Byzantine church of Agios Fanourios Church in Kitharida
The entrance to Gouverneto Monastery
The entrance to Toplou Monastery