The Neratze Mosque, Rethimnon
On Odos Vernardou, you will see the
Neratze Mosque
which has the tallest and best-preserved minaret in
Rethimnon
(built in 1890).
The city holds public concerts in this building. It was once the church of Santa Maria, later
Agios Nikolaos
. The east and north wall of the mosque are the original parts of the Santa Maria Church as is the ornate portal with its Corinthian columns and arched entrance. The Turks converted it to a mosque in 1657. The mosque was the largest and richest in
Rethimnon
and the minaret was designed to reflect this. The chapel of the Santa Maria Church has an inscription indicating its use as a library by the Muslim clergy. The church, reconsecrated after the Muslims left Crete, became Agios Nikolaos, but it never regained its status as a place of worship.
Photos of Neratze Mosque in Rethimnon: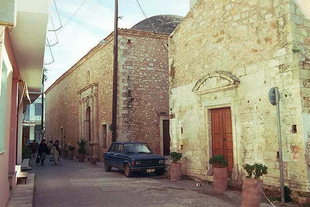 The Neratze Mosque, Rethimnon
Turkish grave beside the Neratze Mosque, Rethimnon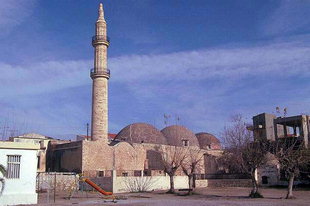 The Neratze Mosque, Rethimnon
The Neratze Mosque and its minaret, Rethimnon
Venetian doorway of the Santa Maria Church (Neratze Mosque), Rethimnon
The Neratze Mosque, Rethimnon