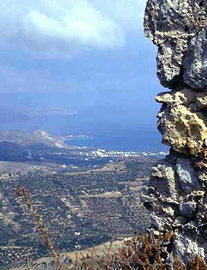 At the first square after you enter Kastelli from the east, there is a sign on the left for Polirinia, 7km. The important ancient city of Polirinia is high and will give you a good view of the very beautiful countryside. There is also an interesting Byzantine church there.
Follow the road to the end where you will see a sign indicating a Roman tower and aqueduct. Park here and walk to the right of the tower where a narrow road goes through the pleasant village to Polirinia. On the left as you go through the village you will see a Roman cistern (grated) and in the middle of the village are the remains of a Turkish olive press made from Roman materials. The path goes up to the church of the Ninety-Nine Martyrs passing Roman graves on the south face of the hill. From the church the path continues up, branching left and gradually winding up around the hill to a small chapel on the northeast side. There are orange way-markings (more frequently from the chapel) that lead to the top - a 20- 30 minute walk.
Polirinia is the site of remains from the sixth century B.C., Hellenistic, Roman, Byzantine, and Venetian eras. It was a powerful city, built on the natural fortifications of the rock at the top of the mountain. One of its harbours was at
Falasarna
, the other was Kastelli (Kissamos). The remains that are visible now are mostly from the second Byzantine and the Venetian periods.
Photos of Polirinia: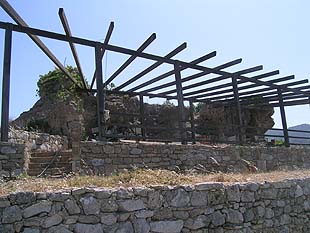 Buildings on the barrow of Polirinia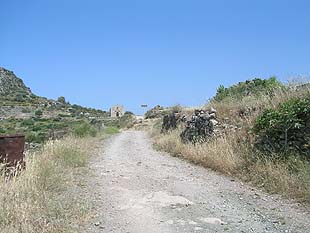 The road towards the ancient acropolis of Polirinia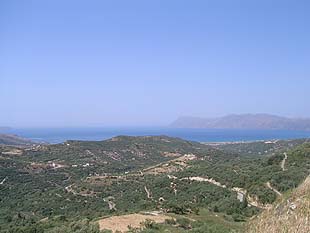 The gulf of Kissamos from Polirinia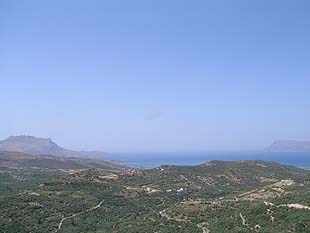 The view from Polirinia
The Byzantine church of Ninety-Nine Martyrs, Polirinia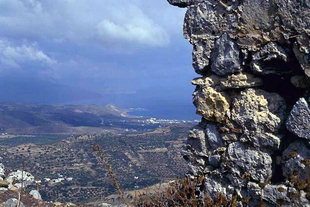 Walls of the fortifications and Kissamos Bay, Polirinia