The town of Limin Hersonisou and its anchorage
Hersonissos is 26km (30 minutes) east of
Heraklion
on the National Road. The seaside resort of Hersonissos is a busy town all year round. Half of the shops and hotels are open throughout the year, in contrast to the rest of Crete where many hotels and restaurants are open only during the tourist season of April-October. Tourist offices book most of the hotels, which makes it very difficult to find a room if not booked in advance. Hersonissos is easily reached from Heraklion and
Agios Nikolaos
by frequent bus service.
Hersonissos stands on the western edge of the bay of
Malia
. It is a summer resort with large hotels and tourist shops. In ancient times it was an important trading centre. Originally Hersonissos, which means peninsula in Greek, was the harbour of the city of
Lyttos
(near Kastelli, Pediada). The city later became independent and the inhabitants minted their own coins which depicted the head of Artemis on one side and Apollo with a lyre on the opposite side. Archaeologists believe that Hersonissos was the site of a temple dedicated to Vritomartis, "the sweet virgin", an ancient Minoan deity later identified with Artemis.
Photos of Hersonissos:

The chapel in the Lychnostatis Museum in Limin Hersonisou
Greco-Hellenistic harbour remains, Limin Hersonisou
Mosaics in the Roman fountain in Limin Hersonisou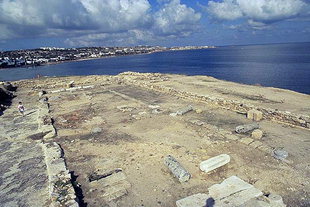 The 5C basilica in Limin Hersonisou
The town of Limin Hersonisou and its anchorage