The village of Episkopi is 7km north from Ierapetra.
There is an architecturally interesting Byzantine church in Episkopi--the church of Agios Georgios, on the east side of the village square.
The new church of the Panagia has a doorway and columns taken from an older Byzantine church. Behind the church there are some marble remains of the older church. The church of the Panagia was a bishopric church during the second Byzantine period. Tradition says that it was named the Panagia of Seven Domes because of its seven domes.
Photos of Episkopi (Ierapetra):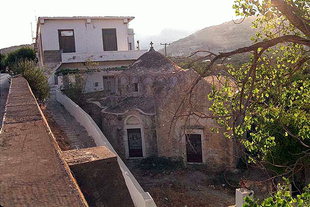 The Byzantine church of Agios Georgios in Episkopi