Kastelli Harbour
35*31' 23*38' (light on the end of the harbour's outer wall)
Tel.: 2282022024
VHF Ch 12
The main harbour is in the southwest corner of the
Kissamos Bay
. The peninsula of
Gramvousa
is to the west and Spatha Peninsula is to the east. The harbour is below a large mass of rock easily seen from the sea. To the west of the harbour is an abandoned rusting hull of a freighter. To the east is the small fishing /sports harbour and the town of
Kastelli
. The quay of the main harbour has a taverna and the Port Police. There is water on the quay.
The town of Kastelli, 3km east, has fuel, shops for minor repairs and shops for all provisions. There is a Post and a Telephone office in Kastelli. There is a Health Centre in town, private doctors, dentists, and pharmacies.
The city of
Chania
can easily be reached from Kastelli by bus, taxi or car rental. It is one hour away. The sports/fishing harbour has three tavernas, telephone and a puplic boat ramp for small boats. This harbour is 2km from Kastelli.
The alongside mooring or anchoring in the harbour mole provides good shelter from north, south and northwest winds. The harbour is open to the east and southeast. The harbour mouth is lit by a green light on the right and a red light on the left. The ferryboat to the Peloponnesus docks in the large harbour. The sports/fishing harbour provides stern-to and bow-to mooring for small boats. Most of the harbour is full with fishing boats. The shelter is good in all weather.
Photos of Kastelli: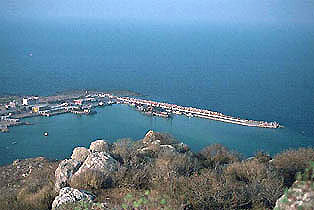 Kastelli Bay and Gramvousa Peninsula
Kastelli viewed from Gramvousa Peninsula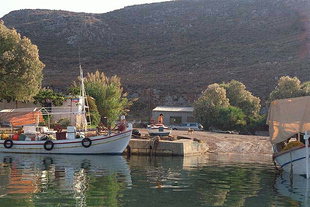 Small boat ramp in the Sport & Fishing harbour, Kastelli
Kastelli Harbour