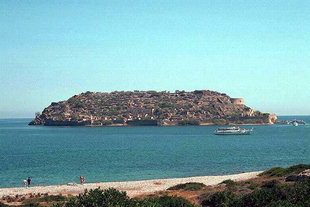 The Venetian fort of Spinalonga
Coming from the east the large Venetian fort on the islet of
Spinalonga
is easily seen. Once you round the Akrotiri of Agios Ioannis on the west you will also see the fort. The entrance to the lagoon is between the west mainland and the tip of the islet.
The town of
Elounda
is at the end of the lagoon and there is a causeway that joins the mainland to the larger island of Spinalonga. The town of Elounda is a luxury resort area. There is a small fishing harbour but it can be filled with tour boats in season. All provisions may be purchased in the town. Fuel may also be brought to the quay. There are no port authorities here. Unless you are desperate, it is easier to refuel and stock provisions while docked at the new marina facilities in
Agios Nikolaos
.
The lagoon of Spinalonga makes for an interesting and pleasant boat trip. Anchorage points are throughout the lagoon. The depths are between 3 and 6 metres. The pier at Elounda is often crowded. There is a light on the end of Akrotiri Agios Ioannis and the village of Plaka and Elounda are lit at night. There can be strong gusts of wind. Around the islet and peninsula of Spinalonga, can be found very good anchorage. Be aware of the prevailing winds and choose the best anchorage.
Photos of Spinalonga: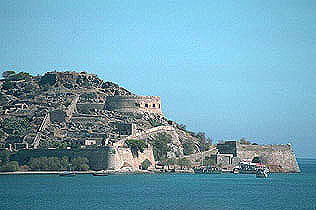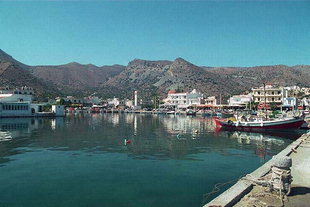 The Elounda fishing harbour
The Elounda fishing harbour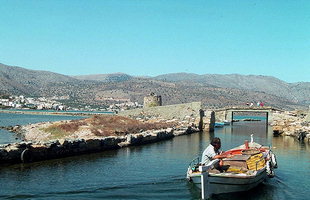 The causeway to Spinalonga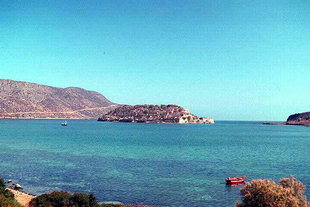 The islet of Spinalonga and the Venetian fort in front of the village of Plaka
Elounda Bay
The Venetian fort of Spinalonga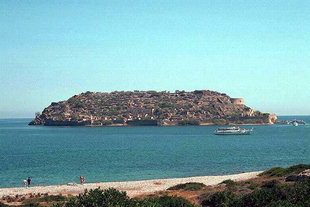 The Venetian fort of Spinalonga