The temple of Asklipios, Lissos
In
Lissos
there was a temple of Asklipios which was visited from all over Crete. The temple is at the base of the mountain, where the necessary sacred stream was, and the site, found in 1957, revealed about twenty statues which had been offered to the gods, either by patients or cured people in gratitude. A golden snake was found among the offerings. In the temple of Asklipios, live snakes were kept that were used in the curative ceremonies and healing rituals that took place there.
The temple dates from the fourth to third century B.C and was built of ashlar blocks (squared-off stones). The floor of the temple of a later date (1 A.D.) is mosaic made of pebbles of different colours with geometric designs and animal pictures.
The site is fenced off and locked and there is a guard but the site can be seen easily from the outside.
Photos of The Temple of Asklipios in Lissos:
Ancient writing in the temple of Asklipios, Lissos
The mosaic floor of the temple of Asklipios, Lissos
The temple of Asklipios, Lissos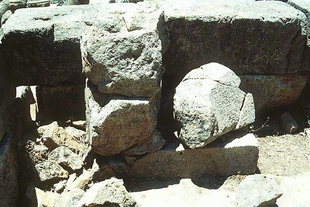 The temple of Asklipios, Lissos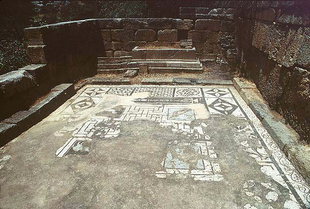 The mosaic floor of the temple of Asklipios, Lissos
Remains of the Asklipios, Lissos
The temple of Asklipios, Lissos
Visit the area of the sight:
Lissos