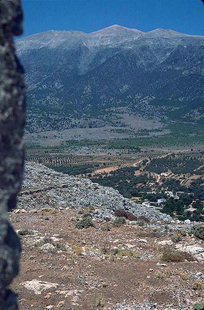 The Anopolis Plateau
Anopolis was a revolutionary centre against the Venetians and was destroyed in 1365. Anopolis, and the province of Sfakia in general, was the centre of revolutions against the Turks in Crete and was never inhabited by the Turks, making it the only free place in Crete during the Turkish occupation.
Anopolis is known today for the hiking paths to the 
Lefka Ori
(White Mountains) and the aerial views of the south coast of Crete from Agia Ekaterini and the site of ancient Anopolis.
From the plateau of Anopolis one has an exceptional view of the south side of the Lefka Ori. Climbs of the highest peaks of the Lefka Ori, at 2,500 metres, start from here. The view of the mountains is particularly impressive in the spring when they are covered in snow. The area is protected from the north winds and it has very mild weather all winter. This area of the Lefka Ori is also famous for its rare wild flowers that can be seen in the spring.
Photos of Anopolis Plateau: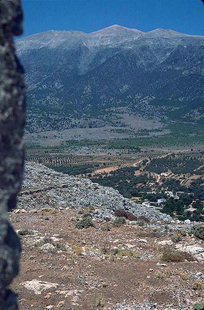 The Anopolis Plateau
Visit the area of the sight:
Anopoli