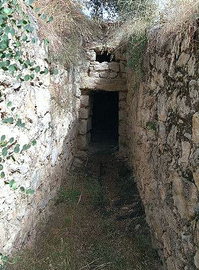 Stylos is 18km from Chania on the road Chania - Megala Horafia - Stylos.
The area between Megala Horafia and Stylos is believed to be an important Minoan site, possibly associated with
Aptera
, or it may be ancient Aptera itself, but no systematic excavations have been done. In the area there is also the very important Byzantine church of the Panagia Serviotisa and the church of Agios Ioannis, Stylos.
Photos of Stylos:
The Panagia Serviotisa Church in Stylos
The Lefka Ori across the Stylos valley from Aptera
Minoan tholos tomb in Stylos