The Byzantine church of Michael Archangelos, Episkopi, Kissamos
The Rotunda of Michael Archangelos is here. The bishopric church of Kissamos of the second Byzantine and Venetian period was this church of Michael Archangelos (Rotunda) in Episkopi, Kissamos. Its shape is unique on Crete, and it is rather close to a Byzantine basilica with a dome (rotunda). It has a very large dome in the middle which dominates the church architecture. Externally the dome presents a step structure, reducing its diameter higher up in the church. The church and the surrounding bishopric buildings have exterior brick decorations.
Within the church, arches support the central space under the cylindrical dome. The mosaic floor is formed from white and black pebbles, often depicting heart-shaped leaves. The church has remnants of wall paintings. It may be closed for renovations. In May 1994 excavations around the church revealed a Byzantine graveyard dated circa 700 A.D.
Photos of The Rotunda of Michael Archangelos in Episkopi - Kissamos:
A fresco in the Rotunda in Episkopi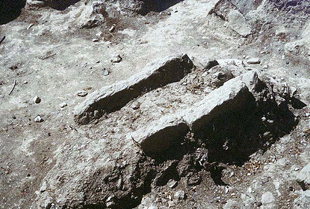 A grave from the first Byzantine period (7C A.D.), Epskopi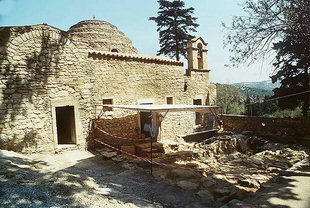 The graveyard near Michael Archangelos Church in Episkopi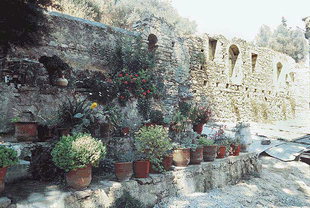 The courtyard of Michael Archangelos Church in Episkopi
Byzantine graves in the yard of Michael Archangelos Church, Episkopi
Rotunda of Michael Archangelos in Episkopi, Kissamos
The Byzantine church of Michael Archangelos, Episkopi, Kissamos