The refectory entrance, Moni Arkadiou
The Arkadi Monastery stands as a universal symbol of the struggle for independence. Because it was difficult to reach, Arkadi became an important centre of revolutionary activity during the Turkish occupation. The leader of the Turkish forces demanded that the abbot, Gavriil Marinakis, expel all revolutionaries. If he refused, he would send troops and destroy the monastery. Marinakis did refuse and Turkish troops set off for the monastery on 7 November 1866. In the monastery at the time there were about 600 women and children and 300 men ready to fight 15,000 Turkish troops with 30 canons. The Cretans refused to surrender and fought off the Turks for two days until more Turkish troops and heavier canons arrived. The west gate of the monastery fell under the continuous bombardment of the canons. The defenders, realising their desperate position, waited until the Turks stormed the monastery and set fire to the gunpowder store. Not only were the Cretans killed, but a large number of the attackers as well. The sacrifices made here in the cause of liberty gained international attention and earned much sympathy for the Cretan freedom fighters.
There is a small museum that has artefacts from the famous battle, church articles, and an absorbing picture gallery of the Cretans of that time. The Arkadi Monastery celebrates the second week of November each year.
Photos of Arkadi Monastery in Moni Arkadiou: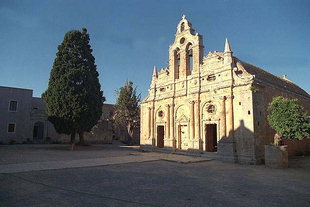 The church of Arkadi Monastery
The spectacular facade of the Arkadi Monastery church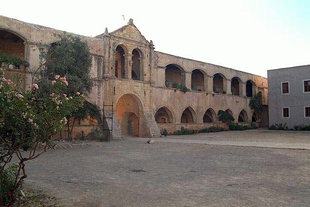 The entrance and the inner courtyard of the monastery, Moni Arkadiou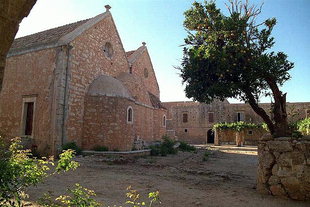 The church of the monastery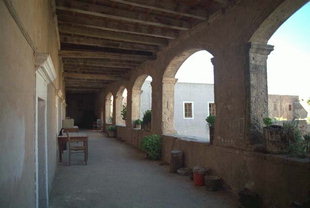 The cloister area of Arkadi Monastery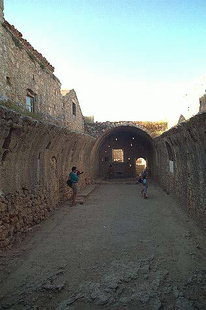 The historical gunpowder room in Arkadi Monastery
The refectory entrance, Moni Arkadiou