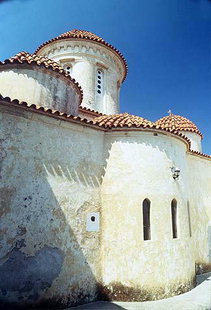 The Panagia Odigitria Church and the Turkish canon ball, Moni Gonia
One kilometre north of
Kolimbari
along the peninsula of Spatha is the Gonia Monastery (25km from Chania). This fortress monastery has a commanding view over the gulf of Chania. The main church has a narthex and a dome, and chapels surrounded by a courtyard and is dedicated to Our Lady Odigitria. The monks' cells are situated around the courtyard along with the abbot's quarters, the refectory, and storehouses.
The Gonia Monastery has an important collection of precious post-Byzantine icons, relics, and other rare religious treasures. Numerous inscriptions on the walls testify to the historical importance of this monastery. A cannonball lodged in the wall on the side facing the sea is a reminder of Turkish assaults.
Behind and above the monastery is the single-aisled church of the Panagia.
Photos of Gonia Monastery in Kolimbari:
Gonia Monastery on Spatha Peninsula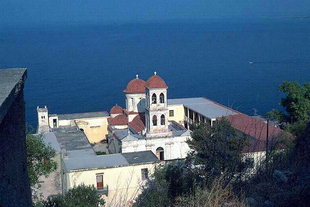 Gonia Monastery, Kolimbari
Gonia Monastery, Kolimbari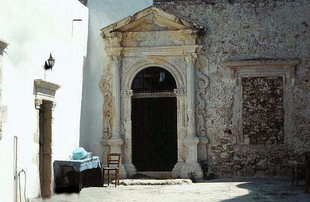 A portal in the Gonia Monastery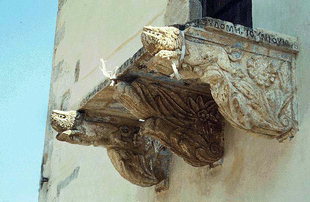 A balcony base in Gonia Monastery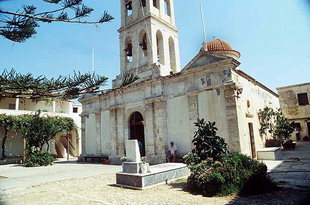 The Panagia Odigitria Church of the Gonia Monastery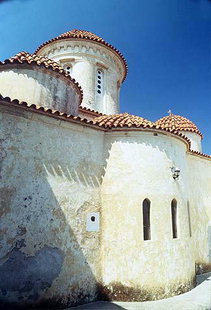 The Panagia Odigitria Church and the Turkish canon ball, Moni Gonia