A small table made from an ancient Corinthian column, Moni Palianis
This women's convent is not communal; each nun earns her living by selling her handiwork. The convent celebrates the Feast of the Assumption on 15 August. It was referred to as "old" in references to it from 668, the first Byzantine period. In 1821, the Turks destroyed it and massacred the nuns. On 24 September the convent holds a celebration for the Panagia of Myrtidiotisa (Virgin of the Myrtle). After the massacre they found her icon under a myrtle tree near the southeast wall of the church. It is said that the myrtle tree is more than one thousand years old, and it is called Agia Myrtia or Holy Myrtle. A lamp burns perpetually in its branches. Daily masses for the nuns take place nearby. Spanakis suggests that this is reminiscent of old Minoan tree cult practises.
The church of the monastery is a three-aisled basilica and one of the oldest in Crete. In front of it a narthex separates it into three parts that correspond to the three aisles. Throughout the church there are remains of older churches from the first and second Byzantine periods. They include marbles, columns, capitals of columns, granite designs, and inscriptions. The aisles of the church are separated by marble columns and capitals of columns with Byzantine relief decorations.
Photos of Palianis Monastery in Moni Palianis: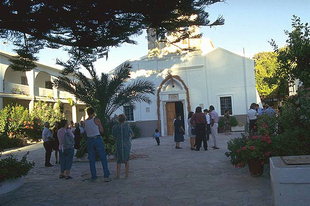 The church of the monastery of Palianis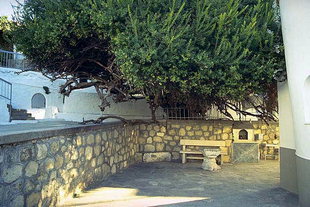 The famous myrtle tree in the Palianis Monastery
The triple-aisled church of the Palianis Monastery
Relief decoration in Moni Palianis
Ancient parts incorporated into the modern church, Moni Palianis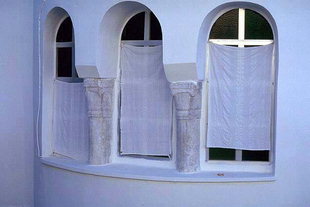 Old materials used in newer constructions, Moni Palianis
A small table made from an ancient Corinthian column, Moni Palianis