A Byzantine fresco found in the Panagia Spiliotisa, Agios Thomas
The church of the Panagia Spiliotisa (Virgin of the Cave) has been built within a cave of the mountain. Just outside the cave, on the side of the mountain, there is an ancient Greek inscription of marble.
Around 1910 two English archaeologists secretly excavated a statue of a goddess which is now in Boston.
Photos of Panagia Spiliotisa Church in Agios Thomas: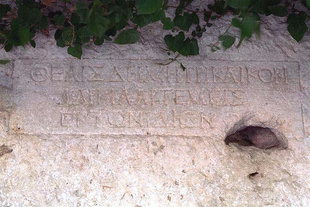 The Ancient Greek inscription found near Agios Thomas
A Byzantine fresco found in the Panagia Spiliotisa, Agios Thomas