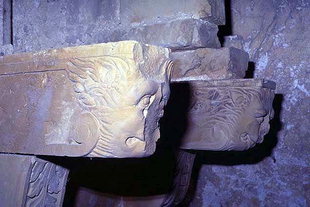 The supports of the tomb in the Panagia Drakonero, Prinos
The Byzantine church of the Panagia in Drakonero is here. The church has cruciform architecture with a dome in the middle. Externally the church has very unusual and ornate decorations around its door, unique on Crete. A tomb inside the church is supported with lion heads, flowers and angels. A coat of arms, probably of the Zangaroli family, is on the upper part of the tomb. In the church there are some well-preserved frescoes of very good quality.
To reach the church turn left just after you enter
Prinos
, on the first asphalt road, and keeping left, go down towards the sea. Before you start the descent to the sea, there is a new hotel. The church of the Panagia is behind the hotel on the side of the ravine and it is not visible from the road. Just beside the north side of the hotel there is a wire fence with a door and a path behind the hotel. The path is 100 metres long and the church is visible as you approach the ravine. The church can be seen on the left if you are coming from the sea.
Photos of Panagia Church in Prinos:
A fresco in the Panagia Church, Drakonero
A fresco in the Panagia Church, Drakonero
The Byzantine church of the Panagia in Drakonero
The Byzantine church of the Panagia, Drakonero, Prinos
The tomb in the Panagia in Drakonero, Prinos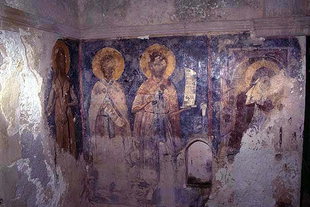 Frescos in the Panagia of Drakonero, Prinos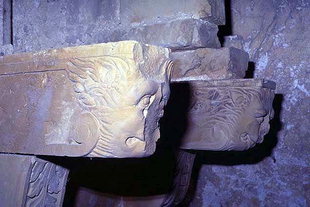 The supports of the tomb in the Panagia Drakonero, Prinos
Visit the area of the sight:
Prinos