The Minoan site in Vasiliki, Ierapetra
The Minoan settlement of
Vassiliki
is one of the first organised settlements of the Prepalatial Period. Vasiliki occupies a strategic position in the shortest north-to-south axis of Crete. At that time the sailors preferred to unload cargo and carry it by foot from the north to the south or vice versa than to sail around the dangerous Akrotirio Sideros. The large building with storage areas and workshops discovered in Vasiliki are a great departure from the primitive dwellings of the Neolithic Period, and a precursor to the great palaces developed in the Protopalatial Period. The ruins here date from 2500-2000 B.C. They are structurally similar, miniature versions of the palaces of
Knossos
,
Festos
, and
Malia
. A pottery style known as Vasiliki was discovered here. It is distinguished by its unusual shapes and is of a mottled red-brown, brown-black colour with a polychrome decoration of white and cherry-red paint on a black background. It is considered to be the precursor of the famous
Kamares
-style of pottery that was developed in Festos during the next (Protopalatial) period. The motifs were no longer rectilinear. Spiral motifs appeared that would become the principle means of decoration in the next period.
This site is not frequently visited and is a low-profile excavation. Some interesting points to look for are the courtyard and the south, east, and west corners of the palace. The palace had various-sized rooms that were connected by an interior corridor.
Photos of Minoan Site in Vassiliki:
The Minoan site in Vasiliki, Ierapetra
The Minoan site in Vasiliki, Ierapetra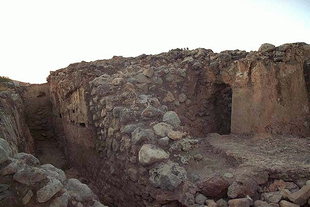 The Minoan site in Vasiliki, Ierapetra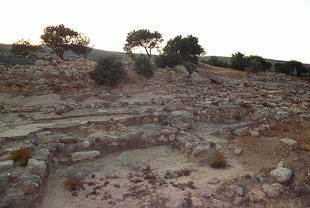 The Minoan site in Vasiliki, Ierapetra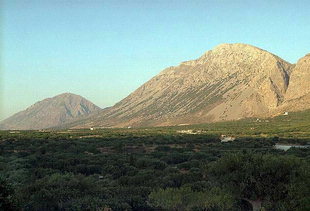 The Thripti Mountain range viewed from the Minoan site at Vasiliki, Ierapetra
The Minoan site in Vasiliki, Ierapetra