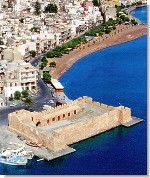 Six tons of tomatoes, 3 tons of cucumbers, 2 tons of peppers, 800 kilos of onions, 500 kilos of feta cheese, 500 kg of olive oil, salt, oregano and the fun and passion of hundreds of volunteers will take along to be prepared the world's largest salad weighing over 12 tonnes!!!
In the southern city of Europe Ierapetra on Saturday June 19th by the sea, overlooking the deep blue Libyan Sea, City, rural, cultural and tourist agencies, citizens and visitors will try to overthrow the Guinness record for the largest salad. (Previous record 11 200 kg Israel).
With products of the Cretan land cultivated by modern methods, certified and health checked, tasty and fresh, cut by the famous Cretan housewives, aspiring to highlight that in this place there are people who toil and sweat-producing "clean" quality products and breed in these markets not only in Greece also in Europe.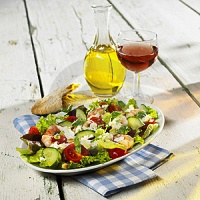 Beautiful Ierapetra in the south of Europe is waiting for everyone to eat the biggest salad, to enjoy the beauty of the landscape and especially to experience the hospitality of the Cretan people that they see visitors as a friend.
A different way to have fun, the day of the 20th of June in the Heart of the production of this vegetables at Gra Ligia, revived the traditional custom of "xentomatiasmata'', a crazy war with tomatoes and cheer teams, the only weapon abundance of tomatoes, to compete the beautiful adness that in Crete they call «kouzoulada».