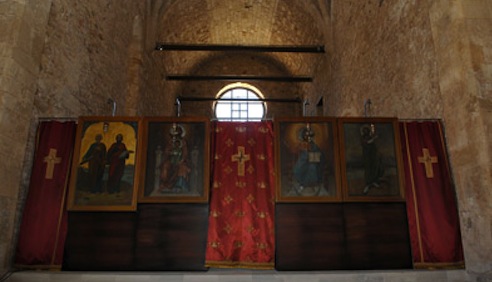 After four centuries of silence, Great Vespers services were held recently at the Dominican church of St. Peter in Irakleio, the biggest city on the island of Crete, to celebrate the Orthodox feast day of the Apostles Sts. Peter and Paul.
The monastery and Church of Saint Peter were built by Dominican monks in the early 13th century, and the church contains the only remaining 15th century frescoes in Irakleio.
Over the past decades, vespers was held on June 25 in the ruins of the church, more as an effort to keep the faith alive rather than a liturgy in the ritual of the Orthodox Church.
This year, however, after extensive repairs and restoration, a Great Vespers was held on June 28 and, according to Bishop Evgenios of Knossos, people thronged to the two Vespers services and two liturgies.
The church is one of the oldest monuments of its kind, with great importance for the 13th century architecture of not only Aegean Greece but all of Europe.
Restoration began in 1991, and was completed just a few short months ago.
Restored to its original form and open to the public as a museum, the church has been designated by the Central Archaeological Council as a commemorative monument, while discussions are currently taking place for other uses, including a Church of Greece proposal that it be used as a cultural venue open to the citizens and also a venue for inter-Christian, inter-Orthodox and inter-faith conferences.
The church of Sts Peter and Paul was built during the first years of the Venetian rule as the catholicon (chapel) of the Dominican monastery, and was violently converted into the mosque of Sultan Ibrahim under the Ottoman occupation. At some point it was used as a woodshop and even a cinema. Much later it was purchased by the parish of Aghios (St.) Dimitrios to function as a church.
The original church, a single-aisle basilica, collapsed from an earthquake, circa 1303, and was rebuilt, while chapels were added on its southern side between the 14th to 16th centuries.
During those centuries, the church collapsed at least three more times before being converted into a mosque in 1669 under the Ottoman rule, at which time a minaret was added at its south-western corner. In the 19th century, after another collapse, a dome was built and the northern wall was reconstructed. After the end of the Ottoman rule the church was used as a cinema, and later as a wood-shop, before restoration began in 1991 of the church proper and two of the chapels.