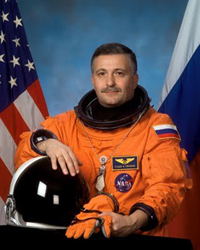 The cosmonaut Theodoros Giourhitsin is Greek origin, his real last name is Grammatikopoulos. He is very famous in Russia and is about to participate in the big promoting celebration for
Cretan and Greek tourist products during the 19th Moscow International Exhibition Travel and Tourism, MITT 2012
.
The Russian cosmonaut will participate in the event organized by the tourist agencies of Crete that will take place on Sunday, according to statements of Regional Governor Stavros Arnaoutakis from Moscow, where he's travelled for the event.
"Crete and Greece are in the centre of attention in that year's tourist exhibition of Moscow, and the positive thing is that we are expecting an increase in visitors from Russia, Ukraine and the rest of the Eastern European countries", explained the regional Governor of Crete.
Crete is about to be advertised in Moscow's subway for a whole month and the cost is only 12.000 euros, while a big Russian TV station will visit Crete in order to present it to the public.
Tourist mobility is expected to be increased as the messages from the Moscow exhibition imply. Moreover, it is estimated that Greek visa applications will be increased by 19% in 2012.
Source: www.crete.gov.gr