Le port Vénitien d'Iraklion
35*21'.2 25*09'.4
Tel.: 2810244956, 2810244912, 2810244934, 2810226073
VHF Ch 12,19
The large harbour of
Heraklion
is easily seen in front of the city. It is a very busy harbour and the cranes and ferries are apparent from a distance.The International Airport is just east of the city and there are also large white oil tanks to the west.
The inner harbour and new marina are at the far west end. The Venetian fort (Koules) marks its entrance.
Heraklion is the largest city in Crete.
All possible facilities are here. There is a new marina in the inner harbour that has electricity and water facilities on the quay. Fuel refilling may be arranged. Iraklion is a Port of Entry. Customs and Immigration Officials as well as Harbour Police have offices in the port.
The city is within walking distance of the harbour. There are 2 General Hospitals, in addition to private clinics, doctors, and dentists. Pharmacies are throughout the city. The shopping and repair services are the best on Crete.
There is a ramp in the new marina. The stern-to, bow-to and alongside mooring (in the outer harbour) provide good shelter in all weather conditions. With the new marina facilities, wintering here is possible. The harbour's entrance is marked at night by a green flashing light on the outer north wall and a green one on the Koules. There is a red flashing light on the left, opposite the Koules. Two large quays on the south side have red lights. The harbour is very busy and care must be taken with the constant coming and going of ferryboats. In strong northerly winds there is a swell at the main harbour's entrance.
Foto Heraklion: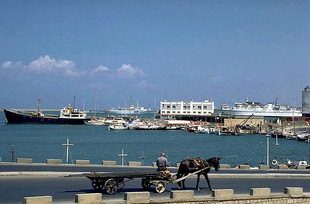 Le port d'Iraklion
Le port extérieur d'Iraklion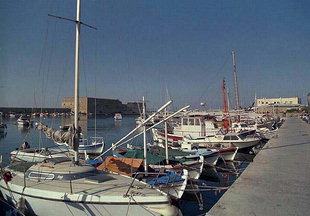 La Marina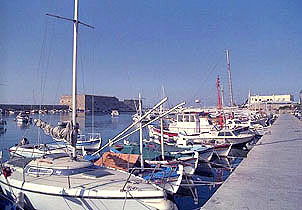 Le port Vénitien d'Iraklion