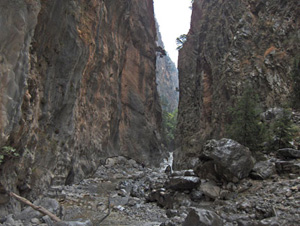 Samaria Gorge
opens its "gates" for the entire length of the journey on the 1st of May.
The entry is permitted all along the main path (Xiloskalo - St. Roumeli).
It also announced the operation of the Information Center at Xyloskalo (Omalos) the days on Wednesdays and Sundays from 11:00a.m. to 14:00p.m.
The announcement of Division of Forestry noted, "if weather conditions change, to the extent that problems arise in the smooth passage of the visitors, the Department of Forestry Chania can decide on the prohibition the entry of visitors to the National Forest.