Tomba minoica a tholos di Kournàs
In the New Palace Period, vaulted tombs were further developed. They became bigger, and sometimes sets of tombs were positioned next to each other. They were generally round, but square and octagonal shapes also appeared. In some cases a sarcophagus was placed within the tomb which could be reused for other dead in the future. The famous
sarcophagus
of Agia Triada, now in the Iraklion Museum, is an example.
In parallel with the vaulted tombs, which were built on a flat surface, a different type of tomb developed which was built underground. They were either circular, square, or polygonal, and their entrance was reached through a long tilted road. They were often built in hills or rock foundations. This type of tomb was the forerunner of the larger Mycenean-type of tomb. Examples of such tombs of this period exist near Knossos and Festos but this tradition continued in the Postpalatial Period. An example of a square-chamber vaulted tomb of the Postpalatial Period exists in
Maleme
, Kydonia, and examples of circular ones are in
Stylos
, Kydonia and in
Kournas
, Apokoronas. A whole cemetery with a large number of hewn rock tombs of the Postpalatial Period has been excavated in
Armeni
, Rethimnon.
Evidence suggests that the dead were cared for long after the burial with dinners, offerings and dances near the tomb. Decorated vases, jars and other artefacts have been found in the tombs of this period. The cemetery in
Arhanes
had quarters for the living, possible caretakers of the dead.
Foto di New Palace Period:
Tombe minoiche a Stylos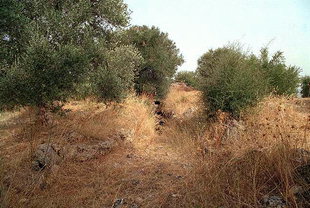 Tomba minoica a tholos di Stylos
Tomba minoica a tholos di Kournàs