Officially, in Greece and especially in Crete naturism is not allowed, only in a few licensed beaches.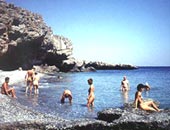 In non - licensed beaches naturism is sometimes forbidden during the weekends, especially in July and August when many families with their children go for swimming.
But there are small or isolated bays and beaches in all over the island far away from villages and locals that are suitable for nudism and topless sunbathing that is permitted almost everywhere.
At the North, East and West coasts there are no official beaches for naturism. However, along the southern coast of island there are more choice.
Some possible choice are:
Paleochora is 77km from Chania on the road Chania - Tavronitis - Voukolies -
Kandanos
- Paleochora. It is very near the southwest tip of Crete.
The eastern edge of the beach is a nudist beach.
The village of Sougia is located on the south coast of Crete, 70km southeast of Chania on the Chania -
Alikianos
- Moni - Sougia road.
Agia Roumeli is the small coastal village that you reach after walking through the Samaria Gorge. A frequent boat service takes you directly to
Loutro
and
Hora Sfakion
.
Agios Pavlos
Situated an hour's walk east of Agia Roumeli. A long and almost deserted beach.
Sweet water beach (Glyka Nera)
Filaki
This is the beach used by the naturist hotel Vritomartis.
Plakias is 40km southwest of
Rethymnon
and has a long beach with a naturist section.
The situation there is changing all the time. Further to the East there is a very long beach stretching all the way to Agios Pavlos (not the same as the one mentioned above). Plenty of scope for naturism.
Ammoudi
Ammoudi is a popular area closed to
Plakias
village. Most of nudists use the western part of the beach in a small bay, an area that natives call "Ammoudaki".
Lendas is 73km southeast of
Heraklion
, on the south coast of Crete.
Gavdos located 24 nautical miles from Hora Sfakion and is Crete's most southern island and the most southern point in Europe. During the summer months there are boats to Gavdos from
Hora Sfakion
and
Paleohora
. The most popular area for naturism is Agios Ioannis, a wonderful beach covered with cedar trees.