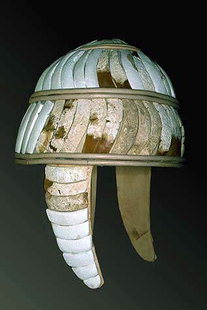 Helmet made from boar's teeth
In the Postpalatial Period (after 1450 B.C.) the Cretan population was Minoan, Ahaean and Kydonian. New cities were created at the time, several of which were on the west side of the island. The myths say that Agamemnon, the King of Mycenae, created Pergamos,
Lapa
, and Tegla. The Ahaeans also participated in the building of
Polirinia
. The Minoan civilization continued in that era, but the decline had started. The Cretans however, were not completely dominated by the new-comers. The architecture of the cities remained unchanged, and it was not affected by the Mycenean way of building.
Photos of Settlements in the Postpalatial Period: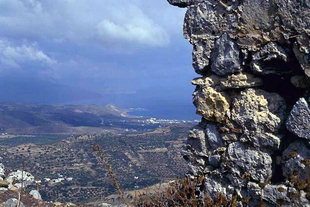 Walls of the fortifications and Kissamos Bay, Polirinia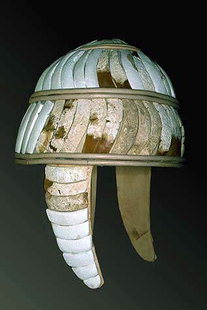 Helmet made from boar's teeth