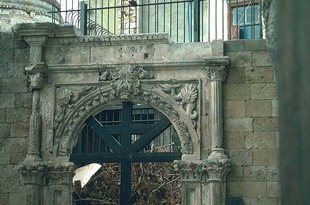 The portal of the Zangaroli mansion that stood in the Kastelli, Chania
The main thoroughfare (Corso) was the present day Odos Canevaro and went from the east gate to the west gate (Porta Colombo) of Kastelli. Along this street were the beautiful Venetian mansions of the noblemen, Permarin, Da Molin, and Zangaroli. The air raids at the beginning of the Battle of Crete in the Second World War destroyed them all. The portals from the Zangaroli mansion are in the Archaeological Museum's garden.
In the Kastelli (Platia Ekaterini) there is an excavation by a Greek and Swedish group of archaeologists that found, among other things, the Masters Impression, a clay seal. The picture shows a male figure on a wall with a large size city behind it. It is dated about 1450 B.C. and it is on display in the
Archaeological Museum of Chania
. Substantial remains of a Minoan city, which some archaeologists believe was the ancient city of Kydonia, were found here.
Photos of Canevaro street in Chania:
St. Mark's Arch on Odos Kanevaro, Chania
Greek and Swedish excavations (Site of Master's Impression), Kastelli, Chania
The Kastelli wall and a Minoan site in the Kastelli, Chania
The wall of the Kastelli on Odos Kanevaro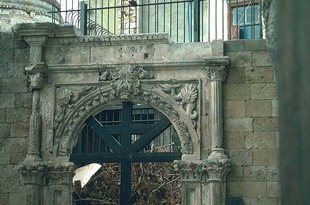 The portal of the Zangaroli mansion that stood in the Kastelli, Chania
Visit the area of the sight:
Chania