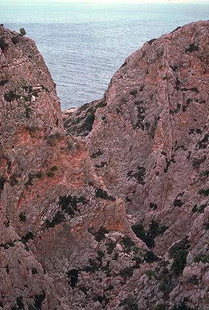 The gorge near the Katholiko Monastery, Akrotiri, Chania
The Katholiko Monastery is the most ancient monastery on Crete, dating back to the eleventh century. The monastery became a place of formal worship in the thirteenth century. The caves of the rocky ravine sheltered the monks, who dedicated their lives to fasting and prayer. Over three hundred years ago, the monks abandoned the monastery because of persistent pirate raids.
The monastery, built into the sides of a ravine, contains a church dedicated to Agios Ioannis Xenos, or St. John the Hermit, the founder of the monastery, who lived and died in the nearby cave that bears his name. The church itself is carved into the rock of the mountain side, and its facade lines up with the slope of the mountain. The bridge across the ravine, and some buildings of the old monastery are still preserved. The view is wild and captivating.
Photos of Katholiko Monastery in Akrotiri: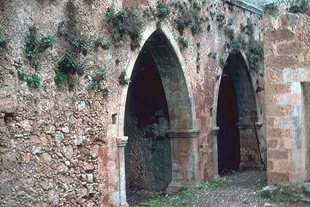 Katholiko Monastery, Akrotiri, Chania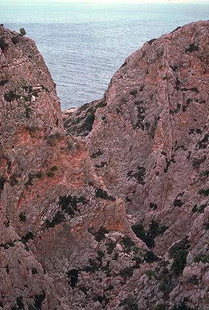 The gorge near the Katholiko Monastery, Akrotiri, Chania