The Panagia Serviotisa Church in Stylos
The church of the Panagia Serviotisa in the monastery of Agios Ioannis can be seen in the middle of the fields on your left, as you come down the road from Megala Horafia, after the Minoan cemetery. You can approach the church from a dirt road on the left at 2km from the cemetery. Follow the track in and go left at the riverbed. Look for the church on your right; after 400 metres there is a path leading to it.
The church of the Panagia Serviotisa is one of the best examples of Byzantine architecture in Crete. It was built early in the second Byzantine period (12C) and shows influences of previously developed new styles of church architecture which originated from Agia Sofia, in Constantinopole. The church has cruciform architecture based on an equidimensional cross and a dome whose supporting drum is on the intersection of the two aisles. Extension rooms of a lower height have been built so that the overall shape of the church is rectangular. Several external blind arches have been built as supports that reach almost to the roof. The church has many beautiful Byzantine architectural decorations. The blind arches are underlined by fine stone construction. The roof has a tooth-like decoration, and the windows in the dome and around the church are constructed of brick. Behind the sanctuary of the church there is a window decorated with a column which leaves two openings. Another decorated column has been placed high up on one of the sides of the church. The church is pleasantly situated in the middle of a valley of orange groves.
Photos of Panagia Serviotisa Church in Stylos:
The Panagia Serviotisa Church in Stylos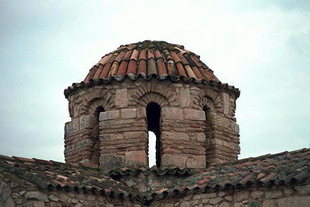 The dome and drum of the Panagia Serviotisa Church, Stylos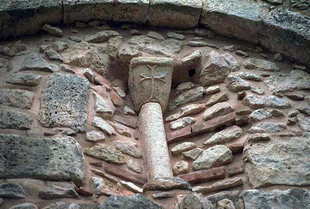 Features of the Panagia Serviotisa Church, Stylos
The Panagia Serviotisa Church in Stylos
The Panagia Serviotisa Church with its decorative brick work, Stylos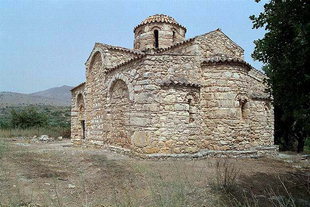 The Panagia Serviotisa Church in Stylos
The Panagia Serviotisa Church in Stylos
Visit the area of the sight:
Stylos