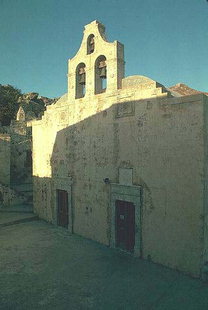 The facade of Agios Ioannis Theologos Church, Moni Prevelis
Preveli Monastery, located in a picturesque is setting best seen from the approaching road.
The Upper Preveli Monastery dates from the sixteenth or seventeenth century. The Venetians built the double-aisle basilica dedicated to Agios Ioannis the Theologian. The Turks destroyed the church in 1867 and it was restored by monks in 1911.
Due to its strategic location the monastery was a base during the struggles for independence. Rebel ships landed there during the revolution of 1866 and the monastery was a drop-off point for ships delivering guns to the freedom fighters. In 1867 it was destroyed by the Turks. It is also famous for its role in the evacuation of Allied troops after the Battle of Crete in the Second World War, an event commemorated by a plaque in the courtyard.
The monastery houses a gold cross containing a piece of the True Cross and precious stones. There is also a museum containing books, religious vestments, property registers and other relics.
Photos of Upper Preveli Monastery in Preveli:
The courtyard of Preveli Monastery
The fountain in Preveli Monastery
Agios Ioannis Theologos Church, Moni Preveli
Preveli Monastery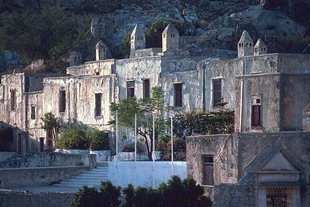 Preveli Monastery
The monks' cloister of Preveli Monastery
Preveli Monastery
The courtyard of Preveli Monastery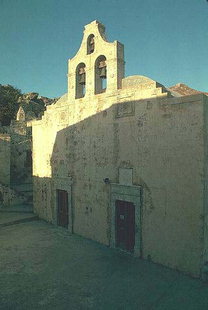 The facade of Agios Ioannis Theologos Church, Moni Prevelis