A well-preserved fresco in the Panagia Church, Sklavopoula
In the lower part of the village of
Sklavopoula
is the Byzantine church of the Panagia and the church of Sotiras Christos.
To reach the two churches continue southeast past the coffee shop and the large modern church. A dirt road turns left and circles to the lower village. Park in front of the first houses and walk straight into the village street, which goes through a roofed passage. After the houses, a kalderimi (footpath) continues and in 100 metres goes near Sotiras Christos Church and the church of the Panagia.
Above the church of Sotiras Christos is the church of the Panagia, which is locked; the key is kept in the last house of the village before the start of the kalderimi. The church has many frescoes from the fourteenth century which are considered to be an important link in the development of the Cretan School. The donor of the church is shown with a model of the church.
Photos of Panagia Church in Sklavopoula:
A fresco in the church of the Panagia, Sklavopoula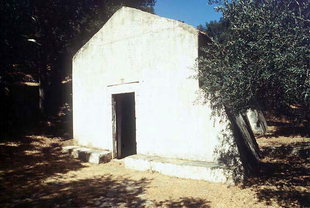 The Byzantine church of the Panagia, Sklavopoula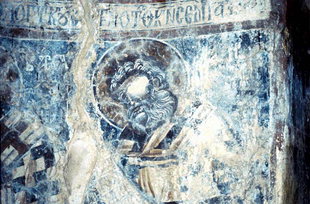 A fresco in the Panagia Church, Sklavopoula
A well-preserved fresco in the Panagia Church, Sklavopoula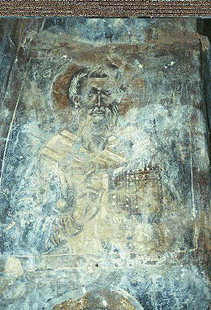 A fresco in the Panagia Church, Sklavopoula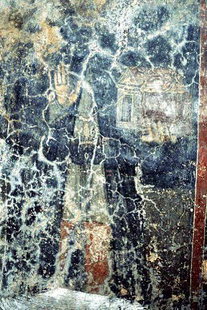 The donor of the Panagia Church with the model in his hands, Sklavopoula
A well-preserved fresco in the Panagia Church, Sklavopoula