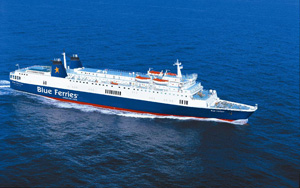 Attica Group is pleased to announce the launch of a new service to be operated by the car-passenger ferry BLUE HORIZON as of Friday 23rd April 2010 in the route
PIRAEUS - CHANIA
Ultramodern BLUE HORIZON has a speed of 23 knots per hour, capacity of 1,505 passengers, 580 of which can be accommodated in 184 cabins, and garage decks for 900 private vehicles or alternatively for 130 trucks and 70 private vehicles.
BLUE HORIZON offers A la Carte restaurant, Self-Service restaurant, Bars, shops, swimming pool, play ground, lounges, air type seats and all first class facilities and services on board for a comfortable and pleasant trip.
BLUE HORIZON departs daily from Piraeus to Chania at 14:45 and from Chania to Piraeus at 23:00.
The deployment of BLUE HORIZON doubles the daily itineraries in the route Piraeus-Chania.
Attica Group, through the launch of BLUE HORIZON in Chania and the established service of SUPERFAST XII in the route of Heraklion, strengthens its presence in Crete, by offering high standard services to the two main ports of the island and by contributing to the increase of the total traffic to Crete in a period of economic recession.
Athens, April 23, 2010