A traditional village knapsack, Anogia
The village of Anogia (or Anogeia) is located in the Prefecture of Rethymnon. 
Recently
Anogia
has become a popular stop for tourists. It is one of the major handicraft and cottage industry centres on Crete. Many workshops are open to the public and it is possible to see cloth being woven on large looms. There are many tavernas, cafes, restaurants and also limited accommodation.
Anogia took part in all of Crete's struggles for liberation, the men of the area are reputed to be fierce fighters. During World War II it was a major centre for the resistance movement and it paid dearly for its involvement. In 1944, resistance fighters kept the kidnapped German General Von Kreipe prisoner here before smuggling him into Africa. In retaliation, German forces razed every building except the church and killed all the men they could find.
Anogia is the birthplace of many famous local folclore singers such as Nikos Ksilouris.
Photos of Village of Anogia:
A platia in Anogia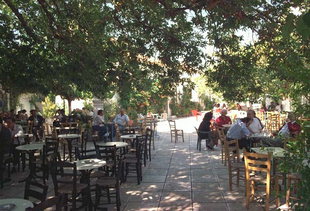 A platia in Anogia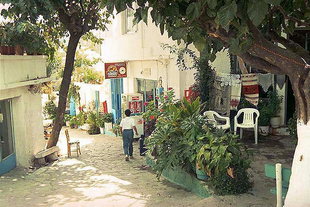 A street in the village of Anogia
Traditional handicrafts in the village of Anogia
Traditional handicrafts in the village of Anogia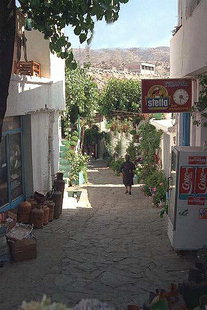 A narrow street in the village of Anogia
A traditional village knapsack, Anogia
Visit the area of the sight:
Anogia