The Bull Relief at the North Entrance, Knossos
The long period of the Neolithic Age was succeeded by the Minoan period (archaeological areas shown on map). Sir Arthur Evans, the archaeologist who excavated the palace of Knossos, named this age after the mythological ruler of Knossos, King Minos. This period lasted for about 1,500 years and included the "Golden Age" of Crete. Evans further divided the period into Early Minoan (3000 - 2000 B.C.), Middle Minoan I & II (2000 -1700 B.C.) Middle Minoan III and Late Minoan I & II (1700 -1400 B.C.), and Late Minoan III (1400 -1100 B.C.).
The Minoans ruled not only Crete but other Aegean Islands and various cities on the mainland. New buildings replaced the cave dwellings of the previous age and, during the Late Minoan Period, architecture reached near perfection. The great palaces that we see today at
Knossos
,
Festos
,
Malia
and
Zakros
were constructed during this period. Arts and crafts also reached their pinnacle also during this "Golden Age". At this time, the great Minoan fleet ruled the Mediterranean, providing wealth to the island from trade and commerce as well as providing protection from invaders. The Minoans were a peaceful people with a love of life and equality between men and women. The Minoan cities have no evidence of fortifications around them, revealing an era of tranquillity and security on the island. A major earthquake hit Crete about 1700 B.C., completely destroying all the palaces; but the palaces were rebuilt soon afterwards and the Minoan civilization continued to flourish.
A new disaster hit Crete around 1450 B.C., causing large-scale destruction to the palaces and settlements and resulting in the total demise of the great civilization. The palaces were smashed and burned, while smaller settlements were devastated. The factors leading to this destruction are still unknown and still widely debated. One theory is that a volcanic eruption on the island of Thira (Santorini) was powerful enough to devastate Crete. Whatever the cause, the Minoan civilization came to an abrupt halt. The Minoan fleet was destroyed, the settlements were levelled, and the population reduced. At almost the same time, Mycenean (Ahaean) Greeks from the Peloponnesus migrated to Crete. We do not know if there was a massive invasion of the devastated island or a gradual immigration over a number of years, supported by intermarriages between the old and the new ruling families. Minoan and Mycenean art and culture were now mixed. New cities and palaces appeared, especially in the west of Crete.
Photos of Minoan Age in Crete: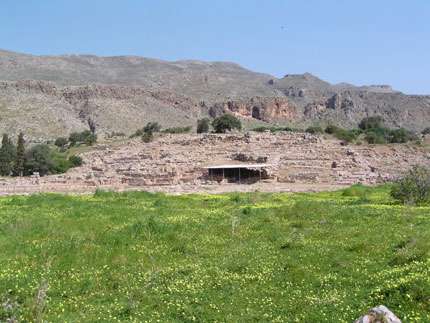 The Minoan Palace in Kato Zakros
The Central Court and West Wing of the palace, Zakros
The Agora of Agia Triada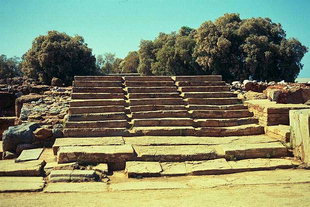 The Grand Staircase, Malia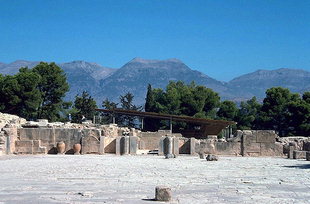 The Central Court of Festos and the Kamares Cave of Mt. Psiloritis
The Bull Relief at the North Entrance, Knossos